We are committed to superior quality and customer service for all your lawn care and fertilization needs in Charlotte.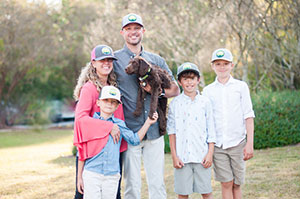 At Carolina Turf and Mosquito, we provide the highest-quality turf management and lawn care service that are designed to keep your lawn in Charlotte, North Carolina looking its best all year long. When you choose our team, you will find that our experience works for you to help you achieve the best results. Contact us today to learn more about how we can serve you!
Mission
The Mission of Carolina Turf and Mosquito is to provide our clients with sound advice and the best possible solutions for their needs while maintaining superior quality and customer service.
Matthew Day – Owner
Matthew attended North Carolina State University, where he studied Turf Grass Management. Upon finishing at North Carolina State, he moved to Columbia, South Carolina and became a valued employee at a local, reputable landscaping company for six years. With this company, he served in the role of Construction Manager.
In 2012, Matthew accepted a new opportunity as Operations Manager at a large franchise landscaping company. With his assistance and leadership, this branch was awarded Most Improved in 2012. In 2013, Matthew became General Manager and earned the title of Branch of the Year in 2014.
In 2015, Matthew and his family were blessed with the opportunity to open Carolina Turf and Mosquito. He and his wife currently reside in Charlotte, North Carolina with their sons Mason, Parker and Nash.
Matthew values his relationship with God and enjoys spending time with family and friends.  He is a hard core Gamecock and Wolfpack fan, and if he is not hunting, fishing or playing golf, then you will most likely find him tending a grill and enjoying music.