We provide lawn fertilization services in Charlotte that will end your frustration over which products to use.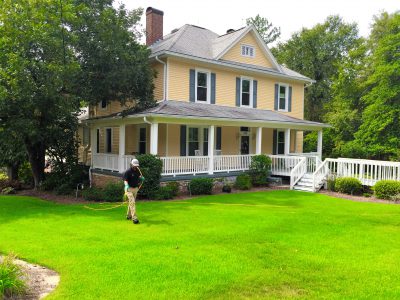 If you have ever stood in the garden center of a big box retailer looking at lawn fertilizer, you probably became frustrated and confused. So many products are making big promises, and it is difficult to know which are safe. On top of that, you need to figure out how much to use, when to use it, and how to store the leftovers. At Carolina Turf and Mosquito, we have a better solution. Our lawn fertilization services take all the guesswork out of the equation!
We use the best products on the market based on our 20 years of experience and turf grass management education from North Carolina State University. We keep up with changes in the industry, so we are certain we are using the safest and most effective products. Our expertise means we use just the right amount of product – only what is needed so as not to adversely affect the environment. Ideally, this is the amount that your lawn will "consume" rather than have it run off. Every lawn is a bit different, but we carefully assess your lawn's health to achieve the healthy lawn you desire.
Timing is Everything with Lawn Fertilization Services
One of the questions we get the most here at Carolina Turf and Mosquito is when it is the best time to call us for lawn fertilization services in Charlotte, North Carolina. You should know that the biggest mistake that DIYers make is using the wrong products at the wrong time of year. We have the expertise to complete your lawn fertilization services at the most beneficial times of the year and do them in such a way as to give you a beautiful and healthy lawn that is barefoot-worthy!
We recommend contacting us in the spring for the first round of lawn fertilization services. As soon as the soil temperature has risen to 55°F, it is a good time to begin. If you don't want to go out and take your ground's temperature, just go by when the grass starts to grow again. After this initial visit, if you want optimal benefits, you should have lawn fertilization services done about four weeks later, and then every six to eight weeks throughout the summer months and into the fall.
We adjust our lawn fertilization services to utilize the right product for the time of year, not only helping the grass grow healthily, but also to promote root growth so it can better survive the dry months ahead. We are careful to not leave fertilizer on sidewalks or driveways so your property is left looking tidy after our lawn fertilization services. Contact us today to learn more.
In addition to lawn fertilization services, we also do lawn aeration and weed control. Together these services can make your lawn lush and healthy. We do not do contracts, so you can add or remove services at any time. We also provide lawn fertilization services for commercial properties in Charlotte. If you have questions about any of our services or would like a quote, do not hesitate to contact us.
---
At Carolina Turf and Mosquito, we offer lawn fertilization services in Charlotte, Waxhaw, Weddington, Matthews, Pineville, Fort Mill, Rock Hill, Gastonia, Mint Hill, and Pineville, North Carolina.
Similar Services We Offer: