Weeds in your Charlotte lawn will be history with our lawn weed control service.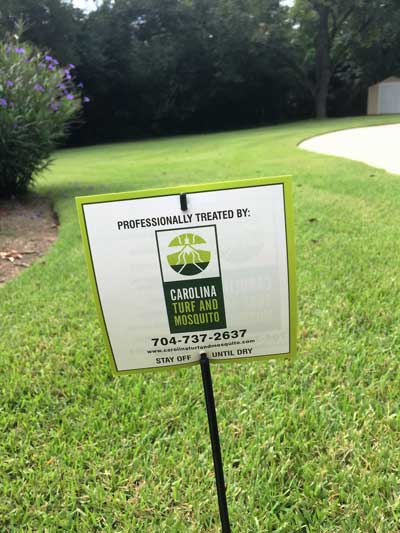 Your lawn is green from street to your door, so you are feeling pretty good that you have a healthy lawn. But, look closely. Is some of that green something other than grass? Weeds in a lawn can quickly take over, and in time, you'll find less and less grass and more and more weeds. Many weeds are not just prolific, but they're also not much fun to walk on, so if your children want to run through the sprinklers barefoot this summer, it might be time to call us at Carolina Turf and Mosquito and ask about our lawn weed control service.
Weeds can also be a sign that your soil composition is not what it should be. If this is the case, we may advise a fertilization treatment. Crabgrass is a common complaint in lawns, but if we get your lawn to a healthy and lush state with the proper pH balance, it can be kept in check. Dandelions are another bane that can be defended against with a thick, healthy lawn.
As you may have guessed, weeds are not a one-and-done prospect. Killing the weeds is only part of the equation. With our lawn weed control service, the underlying cause of the weeds is addressed to promote healthy lawn growth in which weeds do not feel welcome.
It's Not too Late to Have a Perfect Lawn
If you are interested in having a lush, green lawn that is devoid of weeds, we are ready to help. Give us a call today, and we'll schedule a time to come out and assess your lawn and give you an action plan for waging war on weeds. We do not require contracts, so even though we recommend ongoing lawn weed control services for maximum effectiveness, you are under no obligation.
---
At Carolina Turf and Mosquito, we offer lawn weed control services in Charlotte, Waxhaw, Weddington, Matthews, Pineville, Fort Mill, Rock Hill, Gastonia, Mint Hill, and Pineville, North Carolina.
Similar Services We Offer: