Our lawn weed control service in Waxhaw helps keep the weeds away.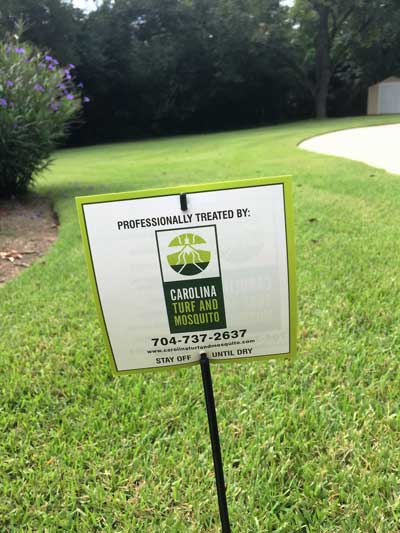 A beautiful lawn is clear and free from unsightly and grass-choking weeds. Weeds can quickly overtake a lawn and spread into other areas of your landscaping, and can be a pain to remove.  The climate in Waxhaw, North Carolina is also a welcome environment for many weeds, and thus constant vigilance and proper preventative care are needed to help keep your lawn weed-free.  Our lawn weed control services help you keep your lawn looking beautiful and free of weeds.
Weed seeds can come from anywhere—a bird, a dog, the wind, or the soles of your own shoes.  It is not a matter of if your lawn might get weeds without preventative care, but when.  However, caring for your lawn can be time consuming, and if you are not careful, you can sometimes do more harm than good by your attempts at weed-killing.  Let our professionals assess the needs of your lawn and then discuss with you the best route to kill any existing weeds and prevent future weeds from springing up. Lawn weed control service helps take out the guesswork and much of the back-bending work.
Let us Love Your Lawn back to Perfection
At Carolina Turf and Mosquito, we are committed to helping clear your lawn of all types of weeds, so you can feel proud of your lawn.  A beautiful lawn can create an inviting environment around your home or business and adds highly to curb appeal.  Weeds break up that picture.  Use our lawn weed control service to keep your lawn picture perfect and weed-free.
---
At Carolina Turf and Mosquito, we offer lawn weed control services in Charlotte, Waxhaw, Weddington, Matthews, Pineville, Fort Mill, Rock Hill, Gastonia, Mint Hill, and Pineville, North Carolina.
Similar Services We Offer: